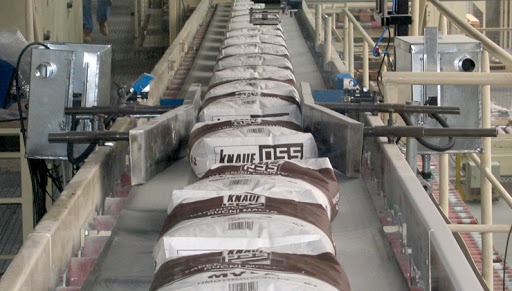 Bags Handling Flat Belt Conveyors
We are leading Manufacturers & Exporters of Bag Handling Conveyors such as Rubber Belt Conveyors, Wagon Loaders and Unloader, Bag Stackers, Bag Stitching Conveyor, Active/Passive Bag Diverters, Bale Handling Conveyors, Cold Storage Conveyors and many more items from India. Our conveyors are custom designed and fabricated as per the needs of the application and can be customized for dimensions, conveying capacity & loading capacity required according to the material to be conveyed. We have over 30 years of experience in design & manufacturing customized conveyor systems for bag handling. Our ISO 9001:2008 systems certified workshop is fully equiped with fabrication equipments and is located in Noida (Delhi NCR). Please send us your requirements for these equipments to receive a custom quote..
We specialize in designing and integrating custom conveyor solutions to meet your needs—and budget.
Bag Transfer Conveyors
Bags Handling Conveyors uses:
Sugar bags handling conveyors
Cement Bags handling Conveyors
Fertilizer Bags Handling Conveyors
Godown Bags Transfer Conveyors
Warehouse Bag stacking conveyors